Leave it to Irish chefs to pick up the scraps of the Celtic Tiger economy and turn out something delicious. As the country struggled after the 2008 financial crisis, clever culinary upstarts saw an opportunity: Tanked real estate prices meant young chefs and restaurateurs could suddenly afford space to strike out on their own and take risks.
Historically, hearty meat pies and stout stews – tasty, stick-to-your-ribs fuel for long workdays and rounds at the pub under gray skies – were the calling cards that earned loyal clientele. These days, however, Dublin's most popular kitchens are those that highlight the purest flavors of every potato or piece of fish, instead of hiding them in a soup meant to keep you full for hours. Below, seven trendsetting Dublin establishments that shine with a "less is more" ethos.
Forest & Marcy
John and Sandy Wyer opened this intimate, light-bathed wine bar as the relaxed, convivial little sister to their wildly successful, nearby Forest Avenue. Here, chef Ciaran Sweeney oversees a menu of whimsical interpretations of Irish staples, such as salmon that's cured for 12 hours, then smoked to order in a wine box filled with hay. Seek out the potatoes baked in seaweed butter and topped with crispy mussels and a buttermilk emulsion.
Craft
There's not much sightseeing in the southern Harold's Cross neighborhood, but it's worth the trek to try Philip Yeung's minimalist eatery, where you won't see a tomato for months if his purveyors aren't harvesting it. "What our growers and farmers have is what's on the menu," he says. Try the mackerel: Cured with salt, sugar, citrus, and herbs for two hours, it's then crisped with a blowtorch and plated with a black-sesame puree, radishes from a farm ten miles away, and dressing made with Kilkenny trout caviar.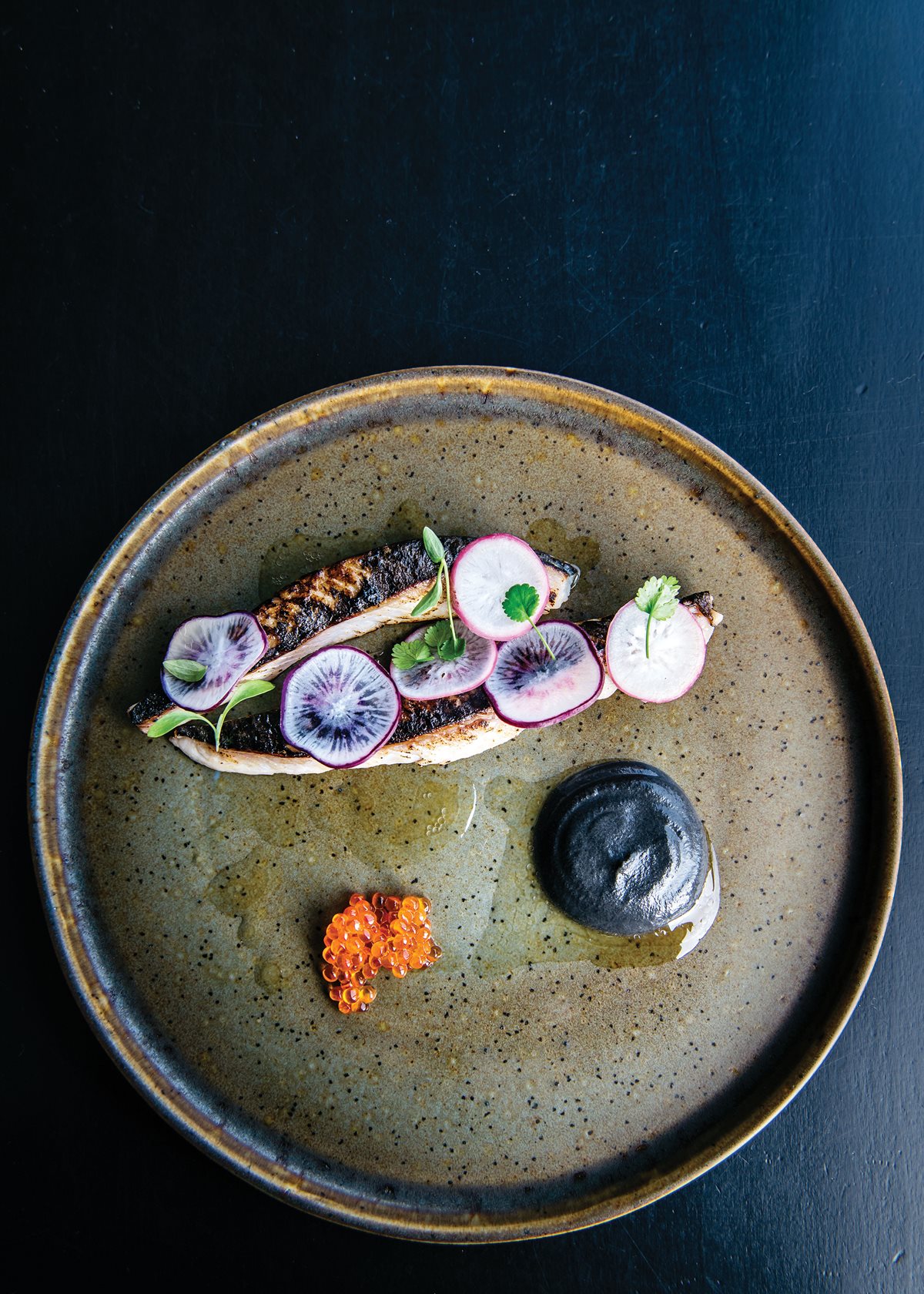 Bastible
Chef Barry FitzGerald's paean to modern Irish cooking sits just off Dublin's central tourist route in Portobello. The stylish bistro, with its bright-green wall and open kitchen, provides the casual setting for FitzGerald's bold, no-fuss fare – starting with house-made sourdough bread that's fermented for two days. The appetizer of razor clams and chorizo (diced and served in the shells) or a main course of squab garnished with caramelized sweet corn and lardo might sound overly indulgent, but balanced flavors and sensible portions mean there's always room for hazelnut cake and poached plums.
Fish Shop
Owned by husband-and-wife team Peter Hogan and Jumoke Akintola, both former teachers, Fish Shop's two charming outposts show off the best bounty of Irish waters in restaurants done up with white walls, bistro seats, and metallic pendant lighting. The original Queen Street address offers set three- and four-course menus with the likes of cider-braised squid stew; pickled, line-caught mackerel with kohlrabi and sorrel; and turbot with beurre blanc. Opt for the newer location around the corner for addictive à la carte classics: oyster tempura, grilled scallops with seaweed butter, and, of course, beer-battered fish-and-chips.
Locks
This decades-old canalside restaurant in Portobello has lived through numerous iterations, the most recent of which began when Conor O'Dowd and Paul McNamara took over in 2015 and reinvented it as a go-to, casual neighborhood spot. Colorful chairs and paintings by local artists deliver playful visuals, while the kitchen focuses on clever, rustic renditions, such as black pudding topped with crisp trotter croquettes and finely sliced tart apple, as well as a bright salad of colorful beetroot with smoked ricotta and crunchy walnuts.
Heron & Grey
In the coastal suburb of Blackrock, about three miles southeast of Dublin's city center, Andrew Heron and Damien Grey's sparsely decorated 24-seater has been one of Ireland's most sought-after reservations since its opening (book well in advance). Ten-course dinners in warmer months bring lots of bright veggies and fruits, such as an appetizer of romanesco and lavender tossed with raw honey. When temperatures drop, the kitchen focuses on game and preserved food – say, an umami-fueled plate of pickled herring with avocado and kimchi.
Mr Fox
For years, Parnell Square had just one gourmet thing going (Michelin-starred Chapter One), but that changed when chef Anthony Smith unveiled this elegant-but-unfussy dining room of exposed brick walls and high-backed leather chairs. Smith, who cooked all over the world before returning home to open Mr Fox, transforms solid, been-there-done-that dishes in unexpected ways: A starter of horseradish-spiked beef tartare, for instance, boosts its savoriness with pieces of smoked eel. His upscale take on classic fried chicken? A perfectly crisped, buttermilk-fried quail, served with dill pickles and a paprika-mayo dipping sauce.